Smart Wiring – Home Hub Brisbane
Residential properties and small to medium businesses are increasingly turning to smart wiring solutions. New builds now install smart wiring as standard; those looking to sell at a profit, upgrade their own level of comfort or futureproof their home are more than prepared for the slight disruption and cost of installing a complete service connection facility.
So what is smart wiring? Platinum Electrical & Air installs Hills Home Hub structured cabling in Brisbane. Telecommunications, security, data, home automation, infrared remote controls, TV and home theatres, projectors, surround sound and music distribution are all wired to a single panel that provides direct lines (home runs) to all devices. This means the maximum signal strength and best connection – guaranteed.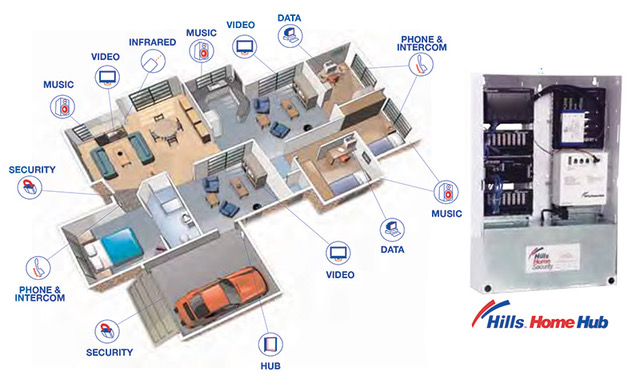 Smart wiring first began in the early nineties but was limited to new commercial properties. Only in recent years have residential structured wiring systems been developed – the best of these, and one of the most popular residential smart wiring solutions in Australia, is the Hills Home Hub series.
By combining high-performance cabling with multimedia wall plate outlets, each device has its own home run connection. This means no cable splicing, where signal strength is significantly compromised. Knowing how rapidly the digital sector is moving forward, the Home Hub system has been designed for easy rewiring and upgrades. Not only will every device in your home benefit from the fastest, cleanest connection, your home will also be completely futureproof.
Any smart wiring solution must be installed by a certified electrician. Platinum Electrical & Air have installed 400 series, 600 series and 1000 series Hills hubs all over South East Queensland. Located in and around Brisbane, technicians at Platinum Electrical & Air travel throughout the region and are more than willing to explain the different options. Call us today to find out how to futureproof your home!
Security Solutions that we offer
Platinum invests significant time and resources in developing and maintaining our employees skills to ensure they remain ahead of the field in regard to safety compliance with regular training and re-certification in:
CPR
Low Voltage Rescue
First Aid
Child Safety Blue Cards
Construction White/Blue Card
Working safely at heights
Elevated Work Platforms
Extraordinary Security Solutions and Electrical Services in Brisbane is only a phone call away.
Contact us on 1300 606 380



Need a local electrician?
Whether it is your home or business, Platinum Electrical has a team of on-call Electricians ready to attend to all of your urgent Electrical needs – 24 hours a day, 7 days a week.